Mold, Mildew, and Microbial Growth
1/4/2022 (Permalink)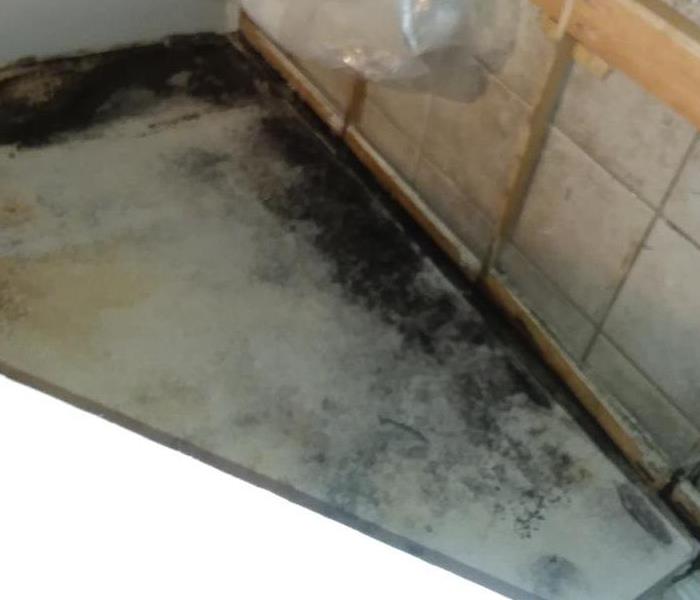 Upon removal of build in cabinet underneath the stairs mold was found. The source of water damage that created the mold was next door unit .
Most homes and businesses are exposed to bacteria and fungus growth, such as mold, mildew and other microbial growth. These growths can be harmful as they destroy building materials, cause a bad odor, discolor leather and fabrics, as well as cause fabrics to rot. They can also cause adverse health problems. It is, therefore, necessary to be equipped with the right knowledge of developing mitigation strategies for getting rid of mold when it occurs. The services of an environmental hygienist come in handy during the process of conducting an effective mold clean up and treatment.

Characteristics

Mold is a plant that belongs to fungus group. When exposed to some levels of temperature and moisture or dampness, they cause mildew. Mildew manifests itself in the form of a thin black or white discoloration. They grow on practically anything they can get the required nutrients, such as fabrics, wood, and paper among other places. The growth thrives in humid weathers mostly in closed houses. Microbial growth is the growth of harmful bacteria. They commonly grow in areas that are often wet in the house, such as the bathroom, kitchen, and laundry areas. They manifest in the form of water spots on walls and ceilings, cracked paints, and a yellow discoloration. Though they display almost similar characteristics, the presence of microbial growth does not denote that it is mildew. After conducting mold cleanup, you should have your home inspected by an environmental hygienist.

Mitigation

Bacteria and fungus that bring about mildew causing microbial growths are found anywhere. Therefore, preventing them from entering the house can be a difficult task. Materials used for building such as wood and papers provide the necessary conditions for the growth. The oxygen they require is freely available in the air. These growths cannot occur in the absence of moisture. In addition to mold cleanup, controlling moisture in homes is another important mitigation strategy for these growths. The following measures can be taken to keep the homes dry.

1. Control moisture levels in the air

You can control moisture by using exhaust fans in the areas where moisture is mostly formed like the bathrooms and kitchens. Ensure also that the air coming from the clothes dryer is directed to the outside.

2. Do not use a humidifier unless necessary

Using a humidifier can increase the level of humidity in the house, which can provide an appropriate environment for these growths. Use the hygrometer to measure the humidity level before using the humidifier. Also, ensure that the relative humidity doesn't rise above 35 percent when using a humidifier.


3. Be on the lookout for leaks

Sometimes windows, roofs, and plumbing pipes leak and cause dampness and wet spots, which cause these unwanted growths in a very short time. It is important to note these leaks on time for repair. A proficient environmental hygienist will look for signs of leaks when inspecting a home for fungus growth.
In case a home is infested by fungus growth, appropriate mitigation measures should be adopted to keep the homes clean. First, determine the extent of the mold growth. If the microbial growth has affected an extensive area, enlisting the help of a qualified environmental hygienist is important.