How long will the job take to complete
6/1/2022 (Permalink)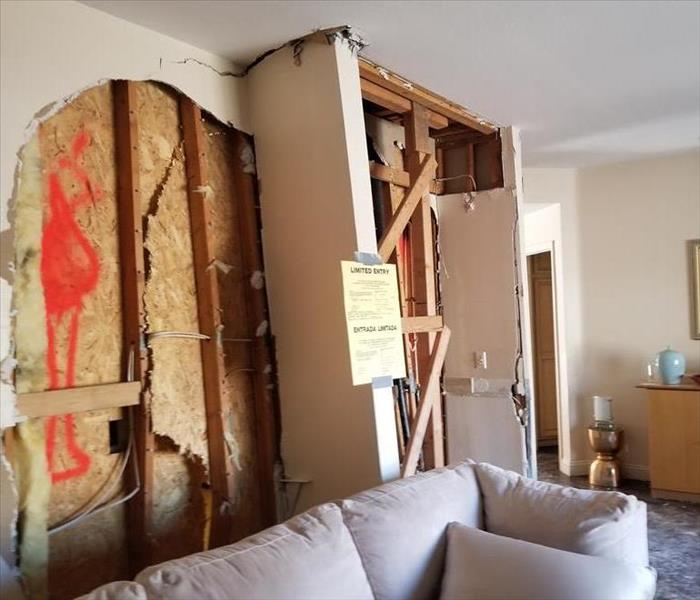 Car went though the wall and stability of the structure was affected and limited entry was in order till repairs are performed to the structure
After arriving onsite to water damage, many times while getting started the first question a customer will ask is, "how long will this take?"
Here at SERVPRO of Malibu/ Topanga Canyon/ Pacific Palisades know that your time is valuable, we want to get the job done as fast as possible and make you say it looks "Like it never even happened."
The typical timeline for a water job is 4-5 days. The first day of contact with us is all about stabilization. At this point, there often has not been enough time to be in touch with insurance agents and adjusters to figure out what we are allowed to proceed with. To stabilize the situation, we set up equipment and extract standing water if possible.
If adjuster contact is made on day 1 or possibly on day 2 we will be clear as to what we are approved to tear out and fix.
Each water damage loss is different. Some of the water damage losses will take longer as contents have to be removed, insured has to relocate to different location
We begin with removal of the affected materials and continue drying the affected area. Days 2-5 are dedicated to drying and monitoring your job.
After the job has been completed, the last step is for us to pick up our equipment, have the final paperwork signed and send billing. That is how simple a job handled by SERVPRO of Malibu can be.
Our technicians are here to help, call SERVPRO Malibu/ Topanga Canyon/ Pacific Palisades today at 310-456-2135 for all your water damage needs.